Discover more from Wild Food • Wild Medicine • Wild You
A free weekly newsletter about natural medicine, wild foods, foraging and Lyme disease. Helping connect you to the wild world for food, health and spirit.
Over 6,000 subscribers
Summer. It's Hot. It's Smelly!
As we hit the heatwave with the thermometer up to 30C, we are much more aware of how we smell to other people. I've been researching some very intimate odours and thought you'd be interested!
Thank you for reading Wild Food • Wild Medicine • Wild You. This post is public, so please feel free to share it, or better yet, subscribe for weekly doses of plant knowledge!
---
With summer flowers also in full bloom, and a waft of fragrance every time I pass the roses and the honeysuckle, scent is on my mind. In the woods the first edible aniseed toadstools (Clitocybe odora) are up with their unforgettable aniseed scent, and last week we found the Prince (Agaricus augustus) which smells strongly of marzipan. The golden chanterelles (Cantharellus cibarius) smell fruitily of apricot and the whole of nature appears to be signalling with perfume. So what messages are we humans sending and receiving through our body odours?
It's hard to think of a topic that elicits such a wide range of responses as the way that we smell so this week I am digressing from foraging to discuss a rather smelly subject!
We go to great lengths and expense to remove, disguise or change our body's natural odours. The idea that someone might find your body odour offensive – the dreaded B.O. - is one of the most awkward sources of social embarrassment. However, like all other mammals, from puberty onwards, we are intended to smell and be smelled.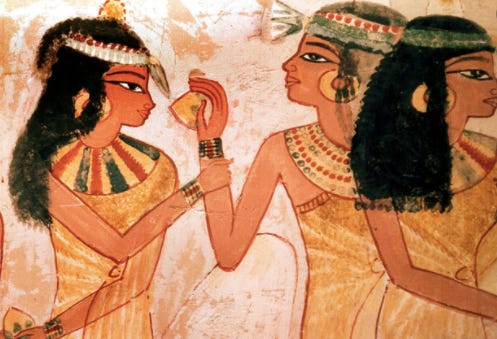 Although humans have been using fragrances since the Ancient Egyptians, for most of history smell wasn't always seen as a problem. Then, in 1903 the first antiperspirant deodorant was marketed. The first deodorant advertising campaign quickly followed in 1912 as companies applied themselves to the task of convincing us that we all smelt so bad that to forgo deodorant was a major social faux pas. It's been a slippery slope ever since.
It seems that we are able to sniff out partners whose genes different to our own. We all have protein genes called MHC alleles, a tool that our immune system uses to work out histocompatibility.
In other words, they distinguish what tissue is like us and what is not like us.
On a bad day, MHC is responsible for rejecting organ transplants from donors. On a good day, they will help you to sniff out a genetically different partner to avoid the possibility of your future offspring being inbred. Women who are given men's worn T-shirts to smell, will invariably prefer the smell of those that have different MHC alleles to them, and vice versa with men. In fact, it seems that we choose to use perfumes that amplify our MHC-related individual body odours. So when you fall in love with a particular fragrance, it is your MHC genotype determining your perfume preferences!
It also explains why sisters (with similar MHC alleles) like the same perfume ingredients and why that perfume that you loved on your best friend smelled awful on you. Invariably, most fragrance sales are by people buying fragrances for themselves!
Researchers have found that women who are taking birth control pills often choose the T-shirts of men with similar MHC alleles. This is probably because birth control pills trick the body into thinking it is pregnant - a time when women, traditionally needing more support, prefer the smells of their relatives.
If couples meet when a woman is already on the pill, once the woman stops the pill, she may find that her mate appears to smell "strange" to her.  Once her 'chemical pregnancy' is over, her scent preferences may once again be for men with contrasting genes.
Tests with a synthetic pheromones 4,16-androstadien-3-one versus a placebo have also shown that certain chemicals really do increase our sexual interest and also make us seem sexier to potential partners. This may explain why civet, musk and other animal odours became perfumery ingredients, alongside the tree resins used to worship the gods, such as frankincense, myrrh, pine and cedar and mood-enhancing floral scents like rose and jasmine.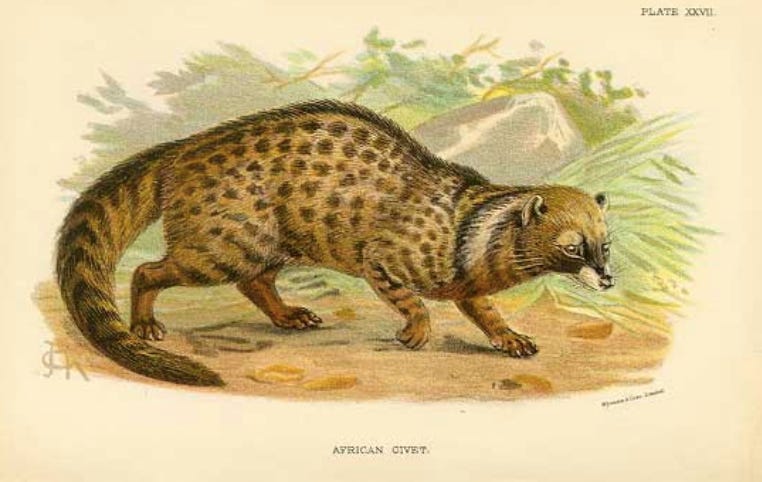 At the base of our hair follicles, especially in armpit and pubic hair, we have eccrine and apocrine glands that produce scent chemicals. Some of these are called pheromones. The word pheromone is derived from the Greek word "pherein"- to carry, and "hormon"- to excite.
They are a way of signalling our sexual status. In some animals they are used to signal danger or food, as well as mating. The jury is still out on whether, like other mammals, humans produce pheromones that create a predictable outcome. We are a complicated species so scientists prefer the term 'putative pheromones' for these ambiguous human pheromones, until they work out exactly what's going on down there and under here.
Volatile aliphatic acids (VAAs) are natural chemicals found in healthy vaginas. They have strong smells (for example, butyric acid smells of slightly off butter). These stimulate increased sexual interest from men. The intensity of these VAAs increases towards ovulation - signalling fertility - and weakens afterwards. Women on the contraceptive pill have weaker VAAs that vary less during their cycle. Another common vaginal scent is lactic acid which has a mild, buttery, creamy smell with hints of yoghurt, fruit or coconut. Lactic acid has an antibacterial activity.
Androsterone, a steroid hormone present in saliva, skin and urine, has a musky smell. It is also found in pine pollen. In men, androstenone help to attract women.
Interestingly, specifically how androstenone smells depends on your genotype.
Most people are not aware of its smell.  Where it is detected some people think it smells like stale urine, or sweat but others find it woody, floral, or pleasant, even slightly sweet and like vanilla. This seemingly inconsistent behaviour by our different gene alleles is driven by the evolutionary aim to find a mate with different genes to ourselves - in order to create healthier offspring.  Women are more sensitive to the smell of androstenone when they are ovulating.
There is also androstenol. This smells of the musk found in truffles. Androstenol is biosythensised in the testicles, saliva, skin and ovaries. The pheromones androstadienol, androstadienone, and androstenone, can all convert to androsterone.
As well as being a sexual attractant, this chemical is responsible for synchronising the menstrual cycles of women who live together. It is also a calming antidepressant and makes us perceive those that we are attracted to as warmer and friendlier people.
Whether we are aware of the smells of these chemicals or not, our bodies send out subconscious scent signals to the opposite sex that trigger very powerful responses.
BITTER
Diets high in coffee and red meat can make semen smell less attractive and taste bitter. For chaps who regard vegetables with suspicion, in a small crossover study, women find the body odour of men on a vegetarian diet more attractive, pleasant and less intense than their meat-eating mates.
CHEESY
Men produce a natural, white lubricating substance called smegma. This helps to protect the penis. If it collects under the foreskin and is not washed away regularly, it can start to smell cheesy. Don't use soap or gels as these can irritate the skin and make things worse. If it persists despite daily rinsing with water, see a doctor or nip into a clinic for a quick check over.
CHLORINE
A slight smell of chlorine (think bleach and swimming pools) is a perfectly normal smell for semen as it does contain ammonia and other sterile-smelling alkaloids. Some condoms and lubricants can make a healthy vagina have slight ammonia overtones. Try organic condoms or lubricant if this is a problem.
FISHY
A subtle, fresh oyster tang is normal in a healthy vagina. However, if your vaginal secretions or semen smell fishy, this is a sign of an infection. If fishy with a thin white discharge it might a condition called Bacterial Vaginosis (BV). If a foul, fishy smell is accompanied by frothy, greenish discharge and intense itching, the parasitic protozoon Trichomoniasis may be the culprit.
FRUITY
What you eat can affect your scent. Eating a lot of citrus fruits, strawberries and especially pineapple, can make vaginas and semen smell and taste sweeter.
METALLIC
Traces of menstrual blood in the vagina around the menstruation can smell slightly little like tin, iron or metallic. Some are reminded of raw meat. This is normal.
MUSKY
Slightly musky is the normal scent-de-rigueur for both male and female armpits and genitals. If it is very strong musk you've either just run a marathon, or it may be time for a shower!
STRONG
Strong tasting foods that affect the smell of your urine, like curry or asparagus, or vegetables with a high sulphur content like garlic, onions or those in the Brassica family (such as broccoli, cabbage or Brussels sprouts) can cause a stronger than usual vaginal smell and give semen a bitter taste – but that's no excuse not to eat your greens! If you're concerned about this, drink more water as it dilutes the effect. Greens like parsley or celery from the Apiaceae family leave you sweeter and fresher.
YEASTY
A healthy vagina will have a slight yoghurt scent that can vary during the month. However, the yeast infection, Candida albicans also known as 'thrush' produces a strong yeasty, bread-like smell.
TOP TIP
Always wash your genitals with plain water. That's right, no soap, shower gel, douches, vagina perfumes, deodorants, or wipes as these upset your finely tuned bacterial microclimate and will cause problems that result in worse smells. If you are concerned that your smell isn't 'right', do get a health check-up to rule out an infection.
So as Summer rolls on, I hope you will look at smell [sic] in a new way!
---