Discover more from Wild Food • Wild Medicine • Wild You
A free weekly newsletter about natural medicine, wild foods, foraging and Lyme disease. Helping connect you to the wild world for food, health and spirit.
Over 6,000 subscribers
The mushrooms are coming up. Learn to forage for them!
Mushrooms are fascinating aren't they?! During my wild food year I ate over 87 species of elusive edible fungi. Join expert forager and mycologist, Matthew Rooney for a half day walk on the wild side.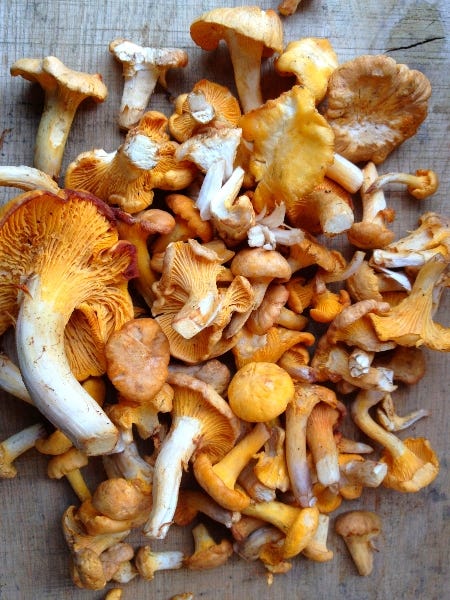 In my opinion, autumn is the best time to find mushrooms and in Scotland I've found everything from chanterelles to aniseed funnels (and very delicious they were too!).
Thanks for reading Wild Food • Wild Medicine • Wild You! Subscribe for free to receive new posts and support my work.
I'm head down writing another book at the moment and analysing the results of The Wildbiome™️ Project. This took place between March and June, when 25 of us foragers repeated my wild food experiment - this time with one group doing 1 month and the other half waiting only wild food for 3 months. The results will be out in an episode of BBC Radio 4 'The Food Programme' with Dan Saladino planned for September. We're already seeing some really interesting trends. If you'd like to be a part of a further Wildbiome 2 study next year, don't forget to email hello (at) monicawilde.com to be put on the list for further information.
Meanwhile, if you'd like to sharpen up your foraging skills with fungi, nows the time to plan an autumn course. My colleague, wild mushroom expert, Matthew Rooney can teach you how to identify common edible fungi and tell them apart from their poisonous cousins! Matthew will also teach you about their medicinal properties, the folklore around them and you'll even get to sample how they taste (and some of them are most unusual). The foraging walk lasts between 3 to 3 1/2 hours with a further 1/2 to 1 hour labelling specimen and examining the identification table at the end. These are small foraging groups so everyone will have the chance to get hands on with the fungi - but this does mean tickets sell out very quickly. The courses are in various places in Scotland from the Central Belt up to Inverness-shire.
I'm also thinking of doing some online beginners workshops on ID skills, if people are interested. So let me know via hello (at) monicawilde.com I'd love to be travelling the mycelial paths of Scotland myself this autumn but sadly the books won't write themselves if I do!
---
Growing Mushrooms Workshop (Wild and Tame) 12-13 August 2023
For those who would prefer a more intensive mushroom course, myself and Matthew are running a two day course on in West Lothian in all aspects of high-value gourmet mushroom cultivation and growing. This will include preparation, propagation, harvesting, uses and handouts. And a goody bag with your own inoculated log/kit! For more information and to book, click below:
---
And finally, going back to The Wildbiome™️ Project… You can still donate here: https://gofund.me/06f3558b if you'd like to give the cost of a cup of coffee or a windfall to this Citizen Science study. Some people think foraging is just an yuppie/cheffy pursuit but we may one day need to fall back on wild foods and we currently have no idea what would happen to our bodies if we did. So we're serious about pursuing the science behind this! And if you do want to be considered for The Wildbiome™️ Project, email me at hello (at) monicawilde.com to register your interest.
Green love, Mo x
Thanks for reading Wild Food • Wild Medicine • Wild You! Subscribe for free to receive new posts and support my work.