Discover more from Wild Food • Wild Medicine • Wild You
A free weekly newsletter about natural medicine, wild foods, foraging and Lyme disease. Helping connect you to the wild world for food, health and spirit.
Over 6,000 subscribers
The Gifts of Lammastide
The turning of the seasons often slips by hardly noticed. This Lughnasadh I'm celebrating tiny leaves and berries with powerful effects on us.
Thank you for reading Wild Food • Wild Medicine • Wild You. This post is public, so please feel free to share it.
---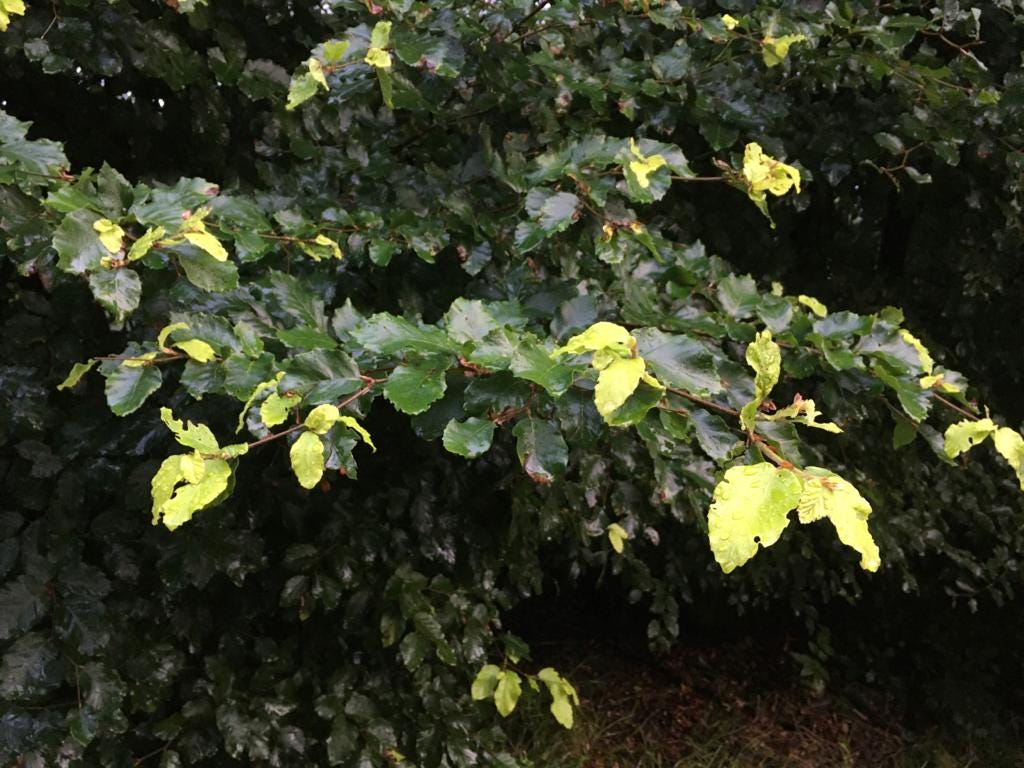 Lammas Leaves on Beech
Last week the lazy silence of the countryside around me was broken by a dull, mechanical droning, going on into the late night. The farmers were out harvesting their crops and cutting the second flush of grass for silage, making the most of the dry days before the rain came in.
In the hedgerows many of the lush, green foliage is tinged with yellow, and a light speckling of brown. Flower heads are giving way to seed heads. We are now in August! While many people are still thinking about the end of summer, I am looking to the season ahead.
The first day of August was called Lughnasadh in the pagan Gaelic calendar and Lammas in the Christian one which supplanted it. Halfway between the Summer solstice and autumn equinox, the old rites have always been associated with the harvest. Our ancestors would gather to offer the first fruits, feast, dance, and find trading and romantic partners amongst the clans. Harvest Sunday came later with offerings of the first loaves and corn.
Lughnasadh marks the start of bilberry picking and flushes of golden chanterelles hint at autumn fungi, but the summer isn't over yet. Many of our native trees, the oak, the beech, the Scots pine and the ash, are putting out second shoots - Lammas leaves.
They're making up for the frost burn and insect damage that happened in the Spring. There is still a lot of photosynthesising that must be done between now and when they drop their leaves, heralding the winter. They are the earth's massive lungs and it feels as if they are preparing to take their last deep breaths, as if to ensure we have enough oxygen for the dull days ahead.
Edible leaves still in their prime are getting harder to find. There are plenty about but their spring tenderness is now late summer fibre - papery, bristly and tough, and their sweetness has soured or turned bitter.
However, there are always a few opportunities for those willing to forage deeper!
Common Sorrel
Common sorrel (Rumex acetosa) is always to be found. It lurks in clumps by the grasses in pasture and is often found around aging dock stalks as if they offer it special protection or perhaps a mineral boost. Dock has a long taproot which, like dandelion, can bring up minerals from deep underground. Sorrel tastes like green apple skin and lemon. Tart, fresh, tasty.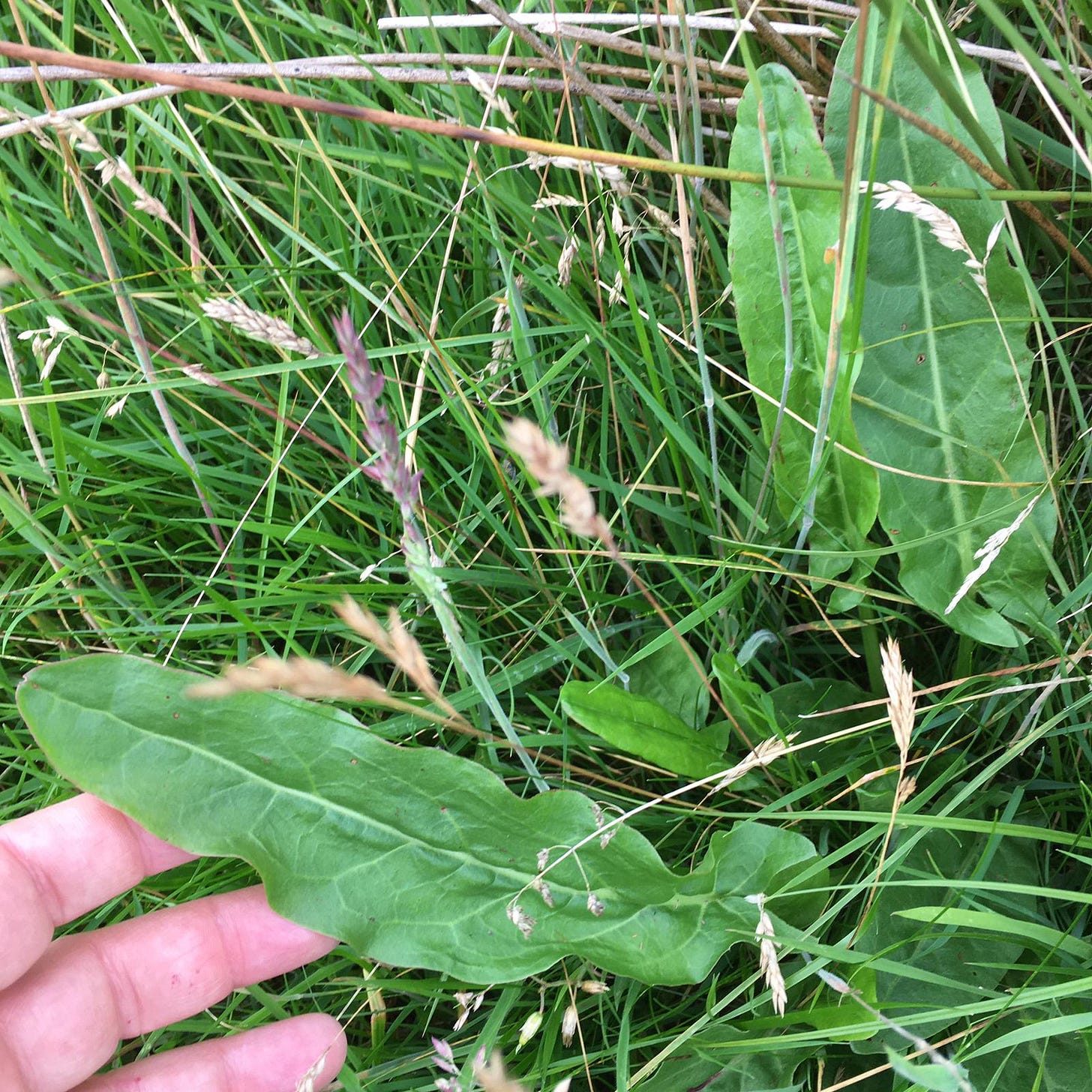 Wild Sorrel Leaves
Traditionally, sorrel sauce was made to accompany fish. I also use it with roast lamb instead of mint sauce on the rare occasion that I cook it. Two summers ago, I had the opportunity to teach foraging in northern Norway - high up where the Arctic circle meets the breathtakingly beautiful Vesterålen islands. After the foraging we all gathered to prepare a meal together. A Finnish fisherman had contributed a whole cod's liver to the meal. I had never cooked one before. Fishy and fatty - overlaid with childhood memories of the horrors of cod liver oil - it had never attracted me to say the least.
Confronted with this very large slab of it I had to think fast!
I boiled up a big pan of water - part fresh, part salty seawater - with handfuls of seaweed - young, broad, green tangle (Laminaria digitata), some young eggwrack (Ascophyllum nodosum), plenty of alexanders (Smyrnium olusatrum), a few cow parsley (Anthriscus sylvestris) leaves, some green juniper berries (Juniperus communis) and rock samphire (Crithmummaritimum) to make a fragrant stock.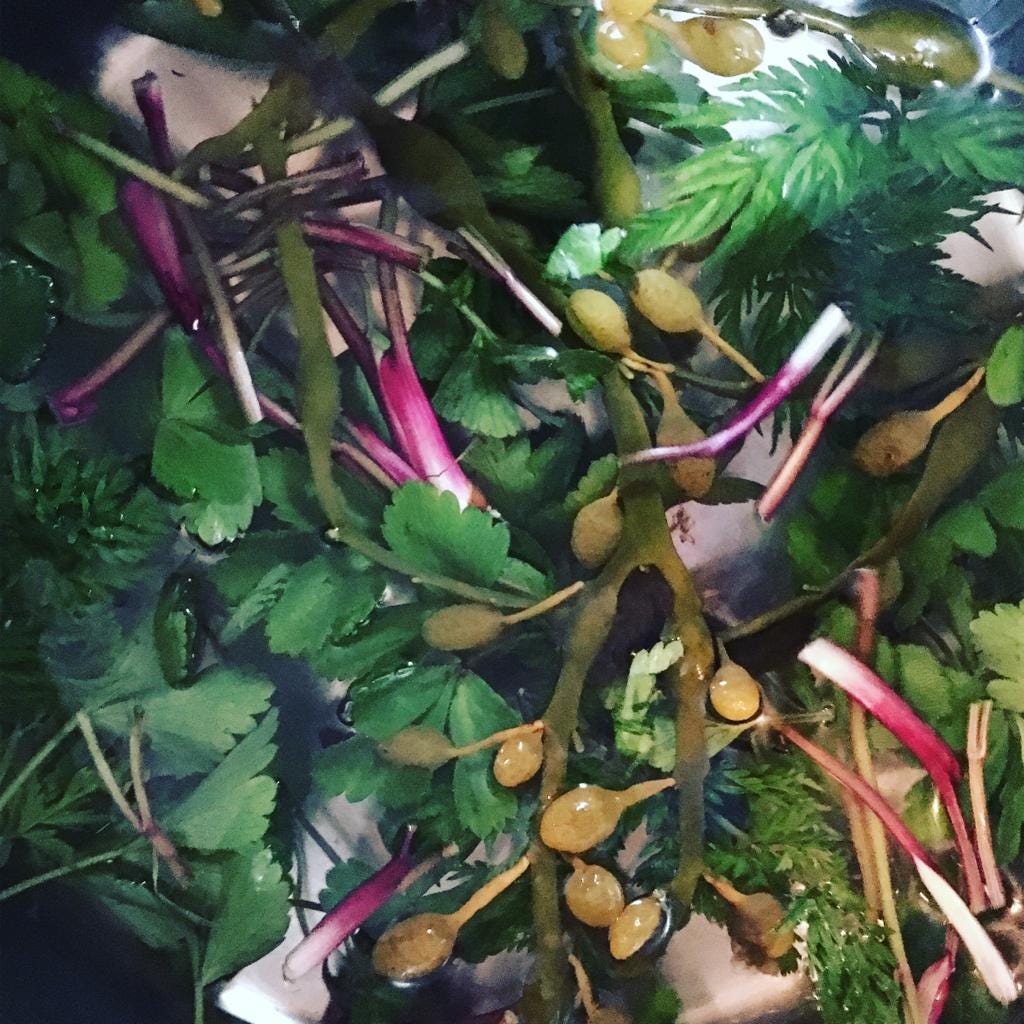 The poaching herbs used to boil the cod liver
When it was simmering and the wild herbs were well-infused, I poached the cod's liver until tender. It didn't take long. To cut through the rich fattiness I served it with a thick, vibrant-green sorrel sauce. It was the perfect accompaniment! The fisherman commented that it was the best way he'd ever tasted it and I can now highly recommend cod's liver as a starter dish!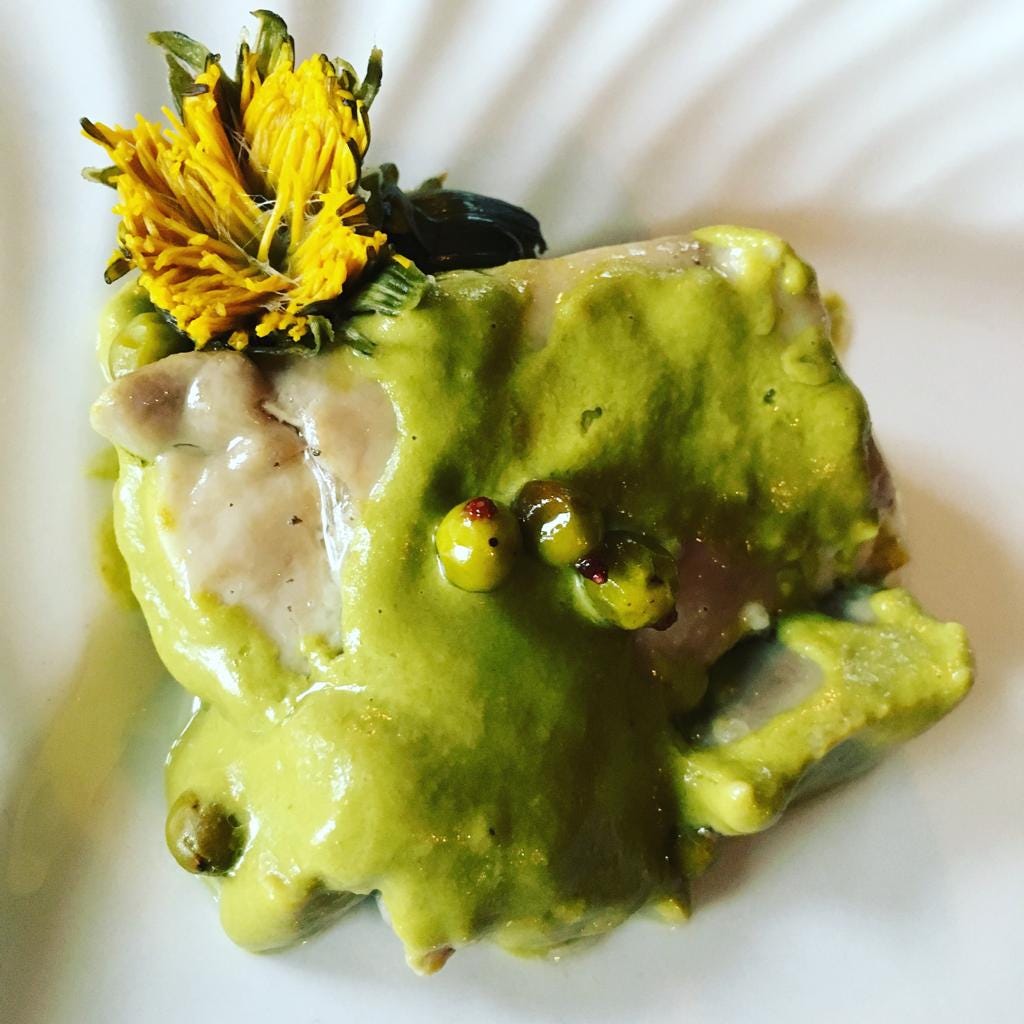 Cod liver with sorrel pesto sauce
Quick Sorrel Pesto Sauce
Recipe
4 C. fresh sorrel, leaves and stems
1/4 C. young ground elder leaves or parsley
1/2 C. olive oil
1/2 t. sea salt
The process for this is simple. Put all your ingredients in a blender and wazz it up until it reaches a desired consistency. If you want it drier like a pesto, use less olive oil. If you want it more like a sauce, add some lemon juice or water. If you want a pesto, add a nut! Anything goes really. Dandelion leaves would give a nice peppery punch.
Check out this recipe for a sorrel hollandaise sauce on my website that is particularly good with fish.
Eyebright
This tiny plant is full of surprises. Eyebright (Euphrasia officinalis) is very modest, so much so that you may hardly notice her but is flowering now, so worth looking out for. She is found on undernourished soils in heathland, old quarries, railway tracks and gravelly places.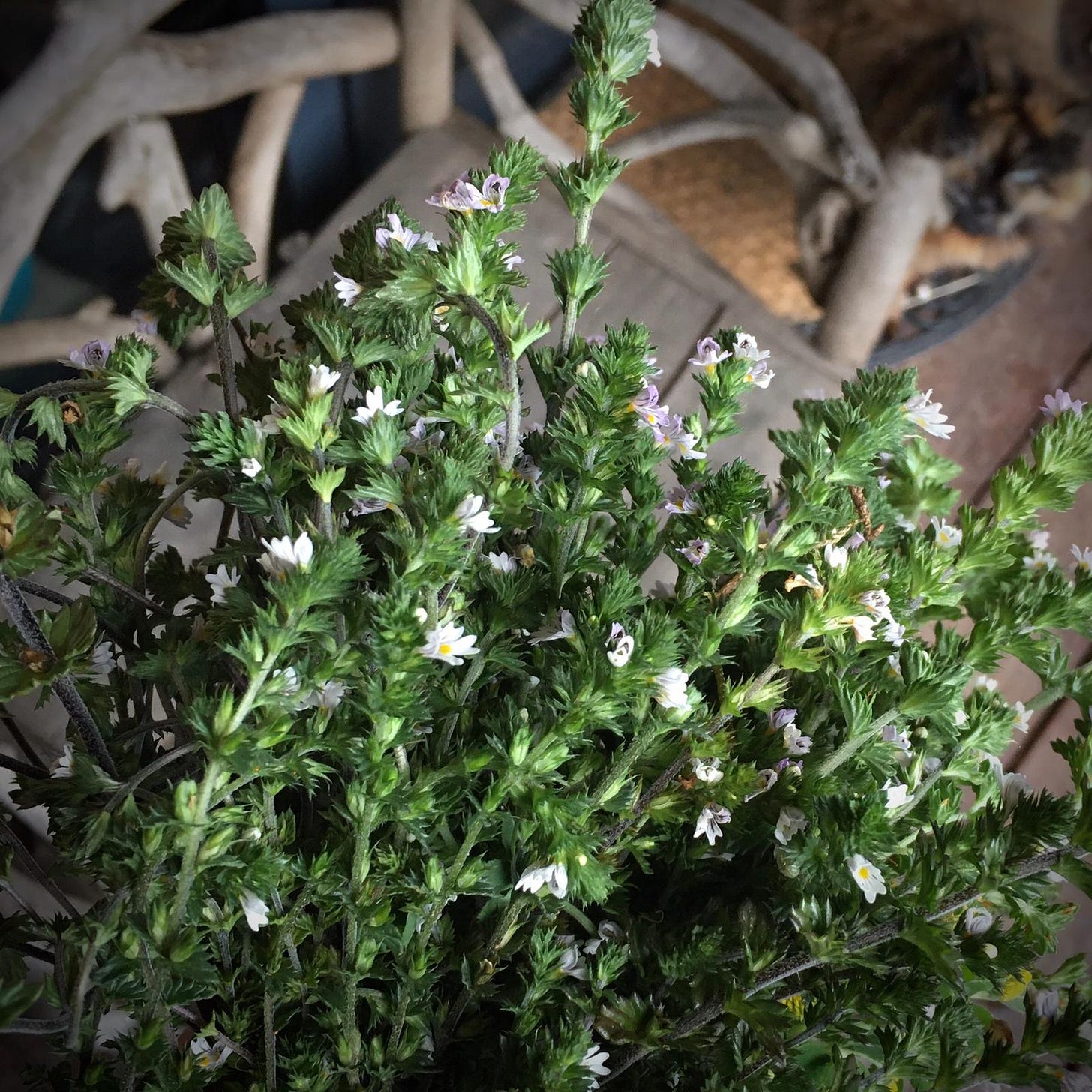 Fresh eyebright: strengthens the eyes and taste of butterscotch.
Add a freshly picked handful of eyebright to a cafetière and pour boiling water over to infuse. This tea is surprisingly sweet - like butterscotch. In fact so delicious that I'm not only drinking the tea hot but diluting it into my drinking water too. And I'm dreaming of infusing eyebright into milk and making an Angel Delight-style eyebright custard dessert!
Obviously, having had a name like 'eye-bright' for centuries gives us a huge clue as to her medicinal properties. Eyebright strengthens eyes and vision, protects the eyes from oxidative stress and damage, reduces inflammation in corneal cells, helps resolve eye infections, and soothes dry eyes and itchy eyes - both in eye drops like Vogel's Eye Drops and when added to hay fever tea blends like Napiers Summertime Tea.
Bilberries
Bilberries (Vaccinium myrtillus) are a more classic Lughnasadh gift - in more ways than one. It's easy to identify blaeberries (as we call them in Scotland) as after their flowers are pollinated by the bilberry bumblebee (Bombus monticola) they produce berries that look exactly like miniature blueberries! The taste is much more concentrated, no watery flavours here. So now the race is on to get your fill before the rabbits, the deer and even stoats, weasels and foxes, get them. Everyone is after a shot of potent antioxidants!

Bilberry
If you manage to collect enough you can make bilberry pie or bilberry jam but where they really come into their own is as a medicine. Well it's pretty obvious that, like all berries, it's going to be high in vitamin C and therefore good for the immune system and warding off coughs and colds. However, they are so much more than just an alternative to blackcurrants or elderberries.
Bilberries are incredibly high in healthy antioxidants called anthocyanins and anthocyanidins - four times more than blueberries. They are incredible good for the eyes helping to prevent age-related macular degeneration and reverse damage done by the effects of light. Some thirty different clinical trials have been done on their effect on night vision and traditionally they were used to support treatments for glaucoma and cataracts. They also help to protect the brain and improve memory; help to reverse metabolic syndrome eg diabetes and lower blood glucose; support gastrointestinal by strengthening gut lining, increasing gut mucus and healing ulcers; and cardiovascular health by strengthening capillary walls and reducing angina.
Importantly, they help to prevent and reverse a process called angiogenesis - the abnormal proliferation of blood vessel that often accompanies cancer tumours. They also protect the kidneys from the effects of some environmental pollutants. They interact with collagen metabolism and help to prevent the degradation of collagen, so I often recommend it to my Lyme arthritis patients. In fact, there is little in the area of health improvements that the bilberry leaves untouched.
The plant's leaves also have medicinal properties and contain anthocyanosides, quercetin, catechins, iridoids, acids and tannins. They are used as an astringent, antimicrobial in acne skin cleansers and creams. The tannins are antibacterial and sometimes used to treat intestinal infections too, including Escherichia coli and Staphylococcus aureus.  The late herbalist Michael Moore used the leaf tea as a disinfectant for cystitis and leaf teas to lower blood sugar in diabetes were widely used in folk medicine.
Finally, if you'd like to incorporate ritual in your life to mark this symbolic turning point of the year, then try drying and powdering the fruit or the leaves of bilberry. A little bilberry powder sprinkled around the edges of doors and windows will keep witches away!
Or you can put the leaves into amulets or medicine pouches to carry with you to protect you from hexes and harm. Burning bilberry leaves as incense is also believed to help dispel negativity and attract benevolence and wealth.
Enjoy this second part of the summer but be mindful of the turning of the seasons and get harvesting!

If you like this post, and find it helpful, you can subscribe and get it in your inbox every Thursday!
---
References
Liu Y, Hwang E, Ngo HTT, et al. Protective Effects of 
Euphrasia officinalis
 Extract against Ultraviolet B-Induced Photoaging in Normal Human Dermal Fibroblasts. 
Int J Mol Sci
. 2018;19(11):3327. Published 2018 Oct 25. doi:10.3390/ijms19113327
Mari A, Ciocarlan A, Aiello N, Scartezzini F, Pizza C, D'Ambrosio M. Research survey on iridoid and phenylethanoid glycosides among seven populations of Euphrasia rostkoviana Hayne from the Alps. 
Phytochemistry
. 2017;137:72-80. doi:10.1016/j.phytochem.2017.02.013
Huang W, Yan Z, Li D, Ma Y, Zhou J, Sui Z. Antioxidant and Anti-Inflammatory Effects of Blueberry Anthocyanins on High Glucose-Induced Human Retinal Capillary Endothelial Cells. 
Oxid Med Cell Longev
. 2018;2018:1862462. Published 2018 Feb 22. doi:10.1155/2018/1862462
Sparrow JR, Vollmer-Snarr HR, Zhou J, Jang YP, Jockusch S, Itagaki Y, Nakanishi K. A2E-epoxides damage DNA in retinal pigment epithelial cells. Vitamin E and other antioxidants inhibit A2E-epoxide formation. J. Biol. Chem., Vol. 278, Issue 20, 18207-18213 (2003).
Chen, Jihua, Uto, Takuhiro, Tanigawa, Shunsuke, Kumamoto, Takuma, Fujii, Makoto and Hou, De-Xing. "Expression Profiling of Genes Targeted by Bilberry (Vaccinium myrtillus) in Macrophages Through DNA Microarray", Nutrition and Cancer, 60:1,43 – 50 (2008).
Chu WK, Cheung SCM, Lau RAW, Benzie IFF. Bilberry (Vaccinium myrtillus L.). In: Benzie IFF, Wachtel-Galor S, eds. 
Herbal Medicine: Biomolecular and Clinical Aspects
. 2nd ed. Boca Raton (FL): CRC Press/Taylor & Francis; 2011.
Chan, S. W., & Tomlinson, B. (2020). Effects of Bilberry Supplementation on Metabolic and Cardiovascular Disease Risk. 
Molecules (Basel, Switzerland)
, 
25
(7), 1653.
APAHoggard, N., Cruickshank, M., Moar, K. M., Bestwick, C., Holst, J. J., Russell, W., & Horgan, G. (2013). A single supplement of a standardised bilberry (Vaccinium myrtillus L.) extract (36 % wet weight anthocyanins) modifies glycaemic response in individuals with type 2 diabetes controlled by diet and lifestyle. 
Journal of nutritional science
, 
2
, e22.
Song J, Li Y, Ge J, et al. Protective effect of bilberry (Vaccinium myrtillus L.) extracts on cultured human corneal limbal epithelial cells (HCLEC). 
Phytother Res
. 2010;24(4):520-524. doi:10.1002/ptr.2974